A tea shop founded by Indian immigrants is bridging cultural divides in Tanzania
After Tanzania gained independence, many Indian families fled the country when resentment toward them grew. But the family behind the beloved K.T. Shop refused to leave their adopted home, where they had already spent decades planting their roots.
You'll find some of the best samosas, kebabs, and chai at a nondescript tea shop in Dar es Salaam, Tanzania. To get there, head to Kisutu, the city's historically Indian neighborhood, and then make your way to Chagga Street. If it's nighttime, zigzag through the burning metal drums until you reach the silhouetted crowd. Or, if it's day, look for the hole in the wall crammed tight with every type of Tanzanian—Hindu, Muslim, Christian, white, black, and brown.
You'll know you have arrived when you smell the almost-half-a-century-old aroma of fried dough and sweet milk. The place is named K.T. Shop, and it's where locals have been getting their Indian snack fix since 1968.
"We have all types of customers; not only Indians and Africans. All types come and enjoy," says Mansoor Ahmed Kadri, the 59-year-old co-owner of K.T. Shop. But, he adds laughingly, "Indian people—they really like tea."
Kadri, who wears smudged-up glasses and a grey goatee, is sitting behind the shop's only counter, greeting new customers with one hand while ringing up paying customers with the other. It looks like he's been running the joint for years—because he has: 12 years to be exact.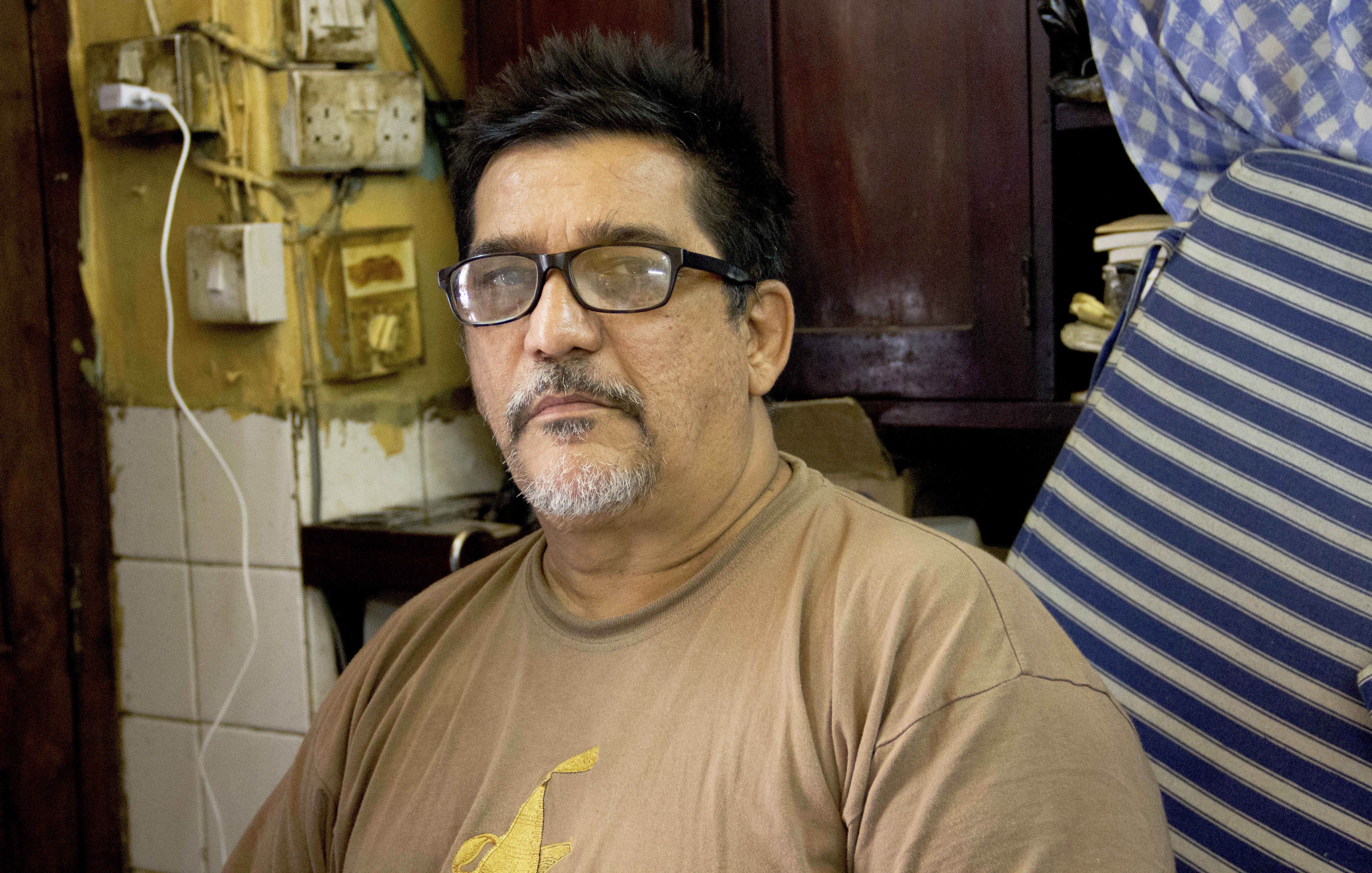 Kadri took over from his father, who took over from his father, who opened the shop with the elder brother of Kadri's late partner—the shop's late co-owner—Abdul Hamid Karim. Now, Kadri runs the shop alongside Karim's two sons. It's a somewhat confusing dual family affair. But it works. And the shop's snacks are a testament to that.
"Their taste is very unique because the ingredients we use are some of the best," says Kadri. But, he adds, "The spices are the most important thing."
The shop grinds all of its spices at a mill before mixing them by hand and then adding them into the kebab meat, samosa filling, and other homemade snack ingredients. As for the chai tea, Kadri says the secret is in the cooking method. The shop follows a strict regimen, making sure to boil the water first before adding in the sugar and, eventually, the tea leaves. The milk—which Kadri says is one of the best available in Tanzania—is added only after the leaves are removed.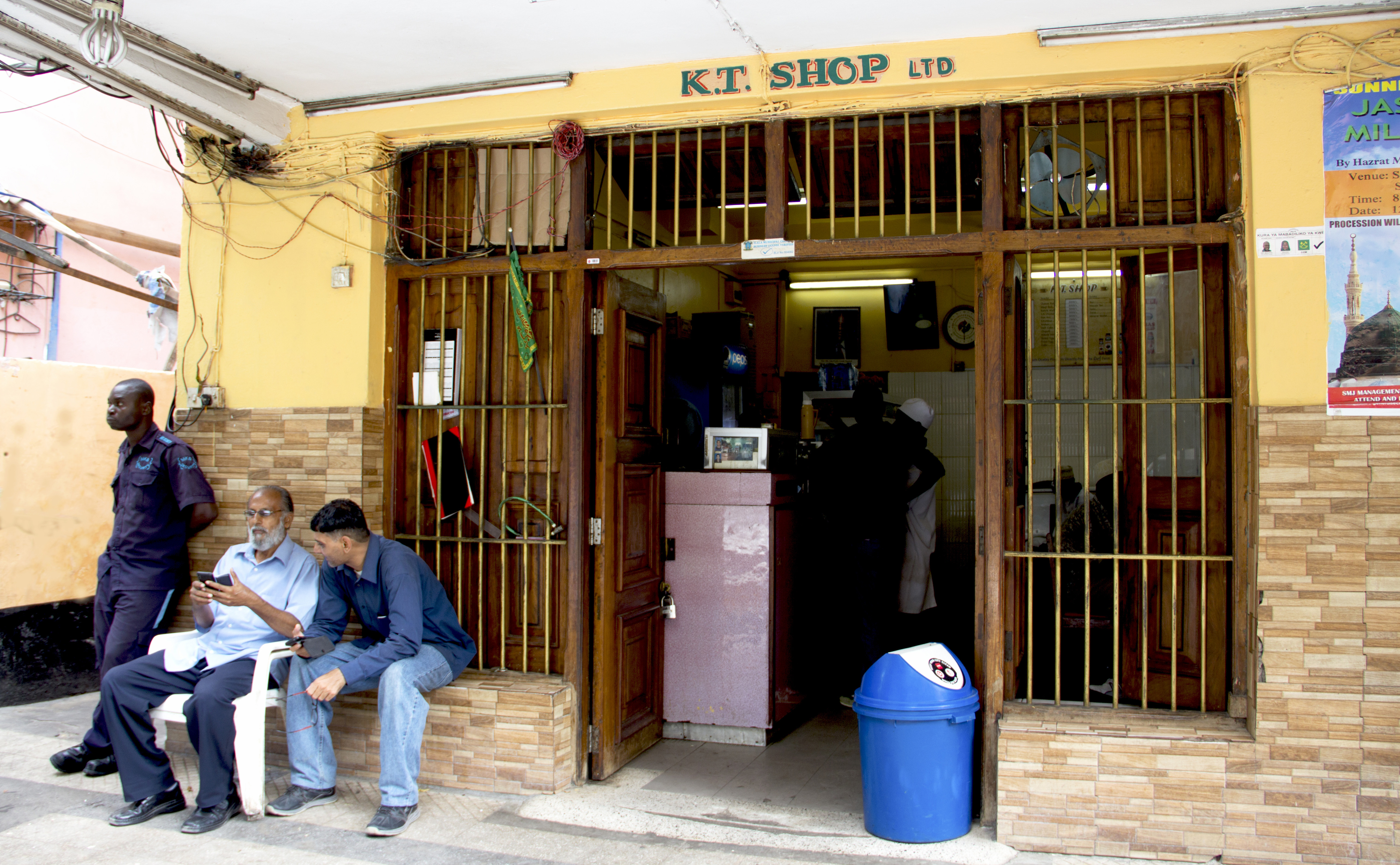 Kadri's grandfather used the exact same recipes when he opened K.T. Shop in 1968. Thirty or so years earlier, he had immigrated with his wife and children from Konkan, India to the British protectorate of Tanganyika—now, modern-day Tanzania—to work on the colonial railway system. He decided to make the journey to a new land after struggling to find work other than farming in his hometown.
Eventually, his grandfather amassed enough wealth to open a few businesses in Dar es Salaam. But it was the tea shop that he chose as his family legacy.
"He had sons and they had no work, so he opened K.T. Shop," says Kadri. "It was a family business. He wanted his sons to run this place."
But the story of Kadri's family isn't unique. Many of the 50,000 or so Tanzanians of Indian descent (Freddie Mercury was one) can recount similar tales—of ancestors leaving their hometowns and villages for East Africa to work the jobs that were being supplied by the colonialists who were there at the time.
In the years following Tanzania's independence in 1961, many Indian families fled the country after resentment toward them grew due, in large part, to their economic success within the colonial power structure. But for some, like Kadri's family, feelings of insecurity were not enough to drive them out of their adopted home, where they had already spent decades planting their roots.
"I think most [Tanzanians of Indian descent], by far, wish to be recognized as a Tanzanian citizen and not as a separate identity…and they don't consider India or any other area their homeland," says Gijsbert Oonk, associate professor of Asian and African history at Erasmus University and author of the book "Settled Strangers: Asian Business Elites in East Africa 1800-2000."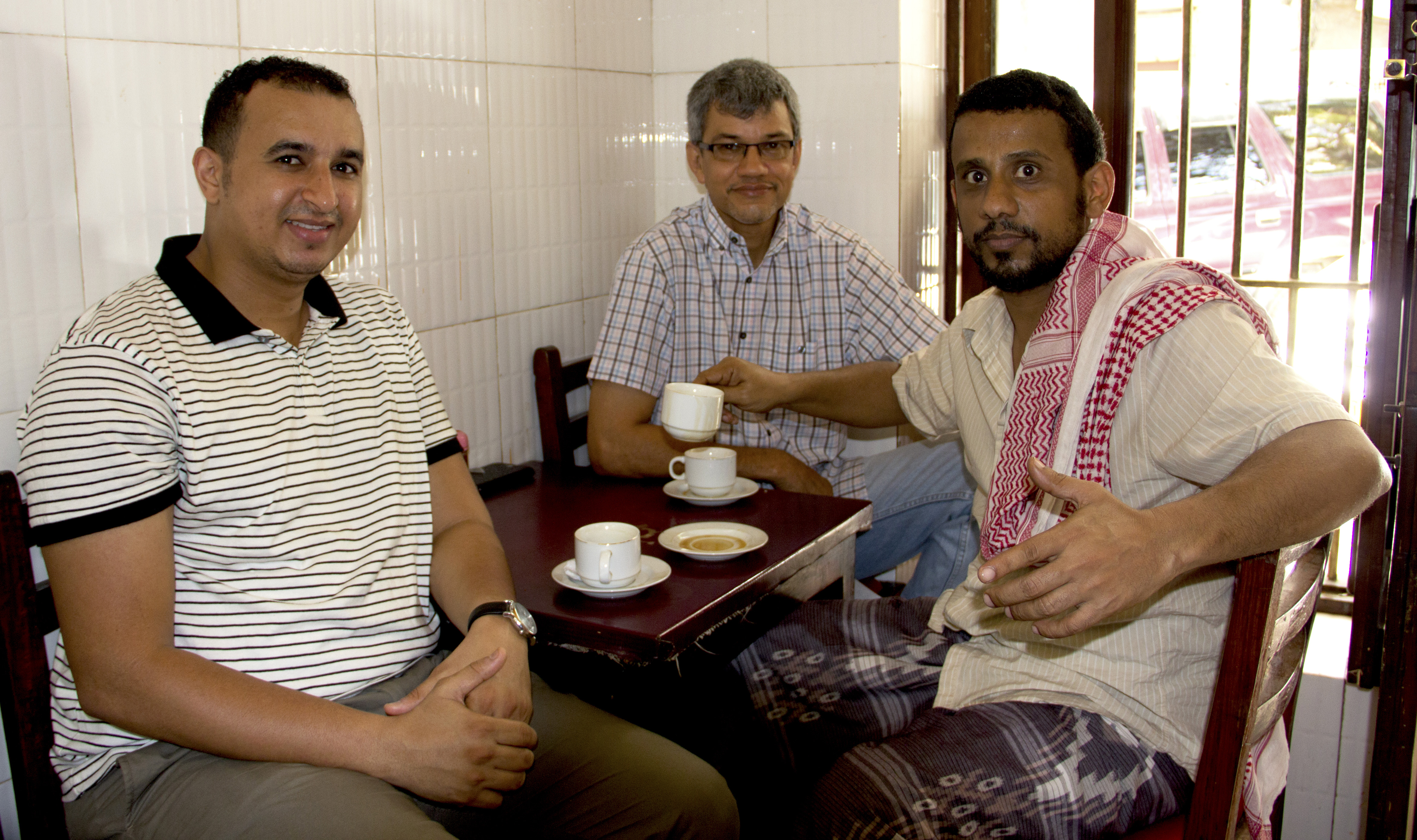 While Oonk says public resentment toward the Indian community in Tanzania has steadily declined over the past 15 years, he's not convinced this sentiment is gone for good. He says that's because they're a successful and easily recognizable minority, which makes them an easy target for politicians in the country.
But Kadri isn't concerned and says, so far, he hasn't had much trouble navigating life in Tanzania with his Indian background: "We are not finding anything tough or any obstructions…we are working and running our shops."
Sitting inside K.T. Shop, it's easy to see why Kadri doesn't feel much of a divide: the place is a hotbed of diversity, with customers from a wide range of ethnic and religious backgrounds. It's actually just a reflection of Tanzanian society itself, which is made up of more than 100 tribes, as well as a small number of Arabs, Asians (mainly Indians and Pakistanis), Europeans, and others.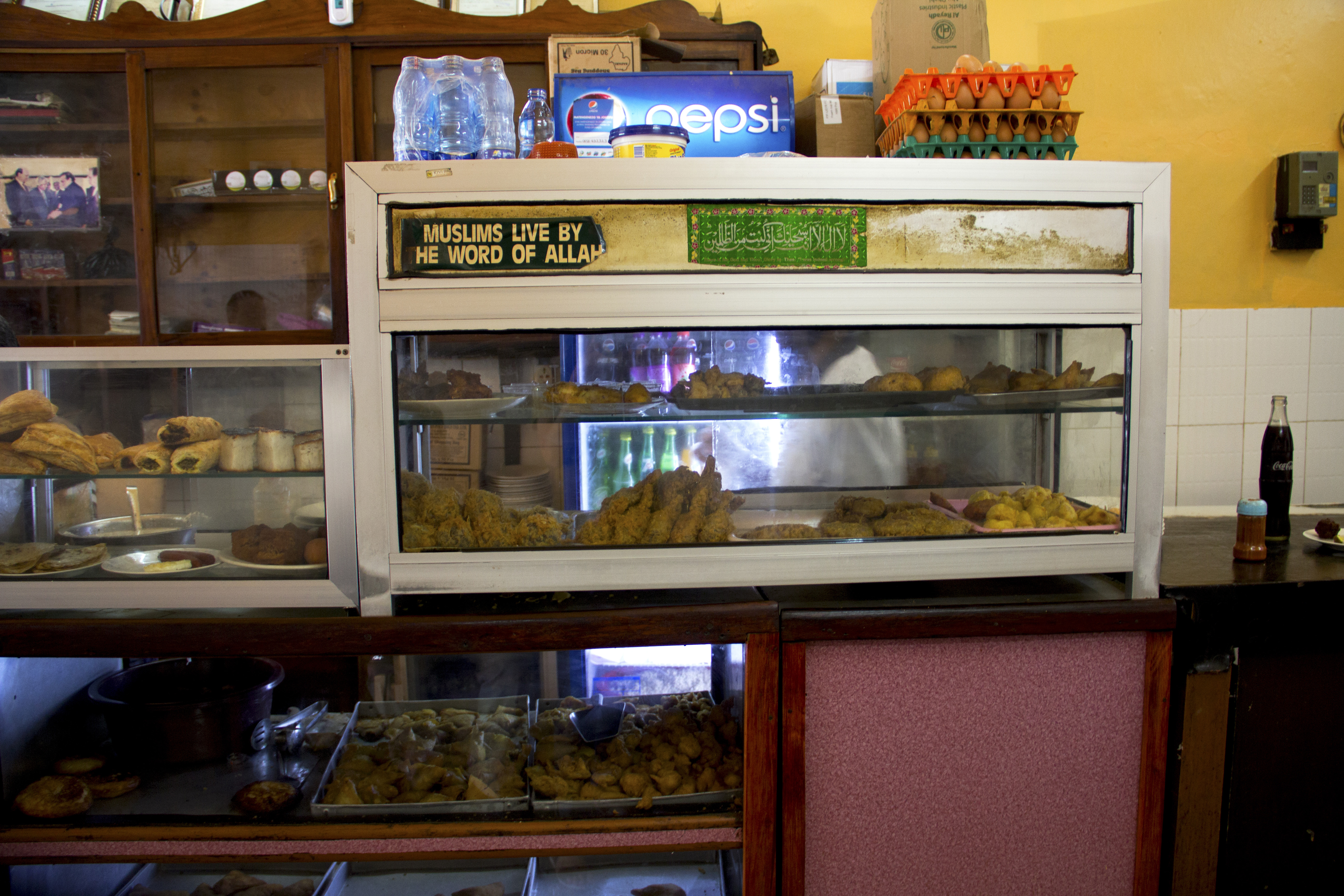 The Indian community in Tanzania alone consists of an assortment of castes and religions, and even the religions are split into subgroups. Kadri's family, for example, are Sunni Muslims who speak Hindi and Konkani at home and Swahili in the shop.
While K.T. Shop is famous for its Indian snacks, its menu is also filled with local Swahili dishes and lots of vegetarian options for its Hindu customers. As for its Muslim customers, all of the food is halal. Clearly, it's a place that wants Tanzanians from all walks of life to come and enjoy its food. And they do.
On any given day, you can find a hodgepodge of people in K.T. Shop who definitely don't mind its lack of frills or the fact that they have to pack into the tiny space like sardines. There's an Arab guy in a keffiyeh complaining about the Tanzanian government, some Indian women in saris gossiping in the corner, and a group of men from one tribe or another chatting in Swahili in between bites of samosa.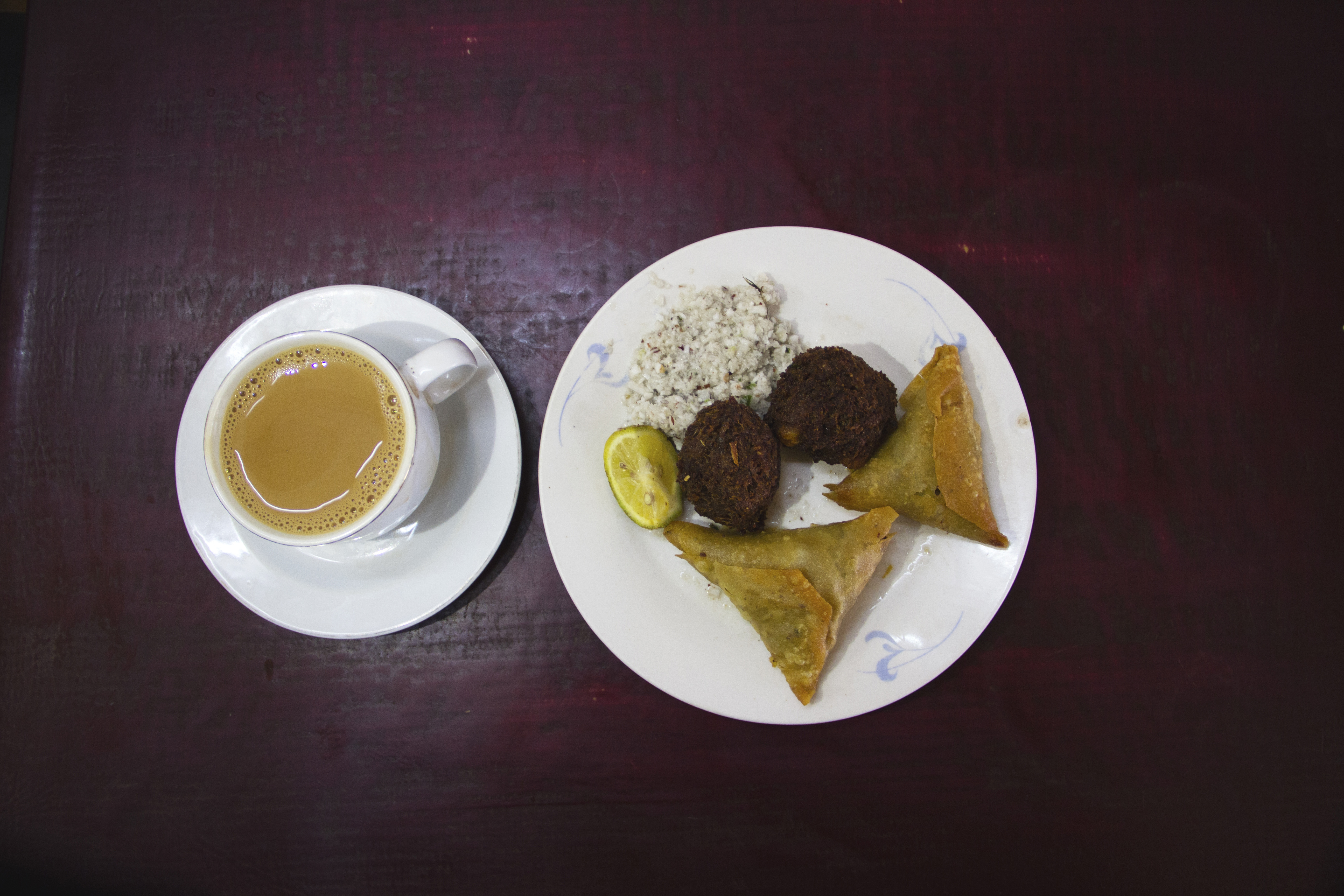 There's no doubt K.T. Shop's snacks are good—any taxi driver in Dar es Salaam will tell you it serves the best chai in town. But its draw rises above food. There's a certain spirit to the place. And it seems to have been imparted as a result of Kadri's own family history, of being an immigrant in a new land. You'll never feel like an outsider when you're inside K.T. Shop.
And that's exactly how Kadri wants it to be.
"Everybody is welcome," he says.
Source: Munchies
Photo credit : © Unsplash